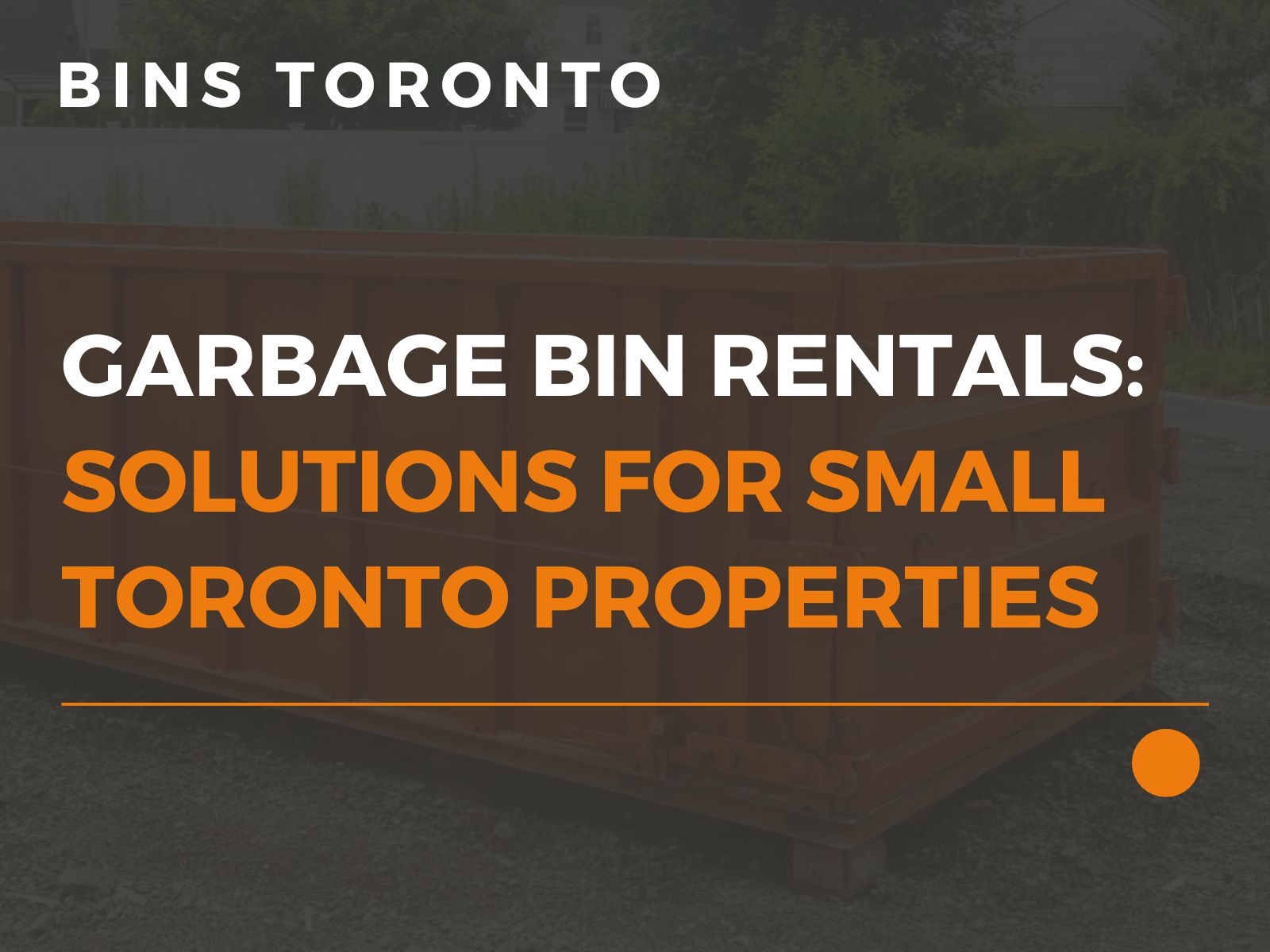 Whether you are in the process of completing a renovation, construction or simply need to declutter your space of junk, our team at Bins Toronto has you covered. We provide a reliable and convenient bin rental and disposal service in Toronto and across the GTA for both residential and commercial properties.
Our yard bins are available in different sizes and at different price points to best accommodate your specific needs. With so many companies offering the same service, we pride ourselves in our customer service. Our team members have the knowledge and training to go the extra mile, answering any and all questions you may have. In addition, we are completely transparent with our prices so you do not have to worry about any unwanted surprises.
If you own a small Toronto property, you may be wondering why you should consider bin rentals when you could potentially dispose of the waste yourself, or have the biweekly city waste collection take care of it. Obviously small properties present a bit of a challenge when it comes to delivering large disposal bins. We have the experience to deal with this professionally, meaning can successfully deliver the bin to your property without damaging your driveway or yard. So let us tell you about how our solutions for small residential and commercial properties work for you.
Cleanliness
When it comes to renovations or construction projects, or even smaller tasks such as junk decluttering – waste accumulation is inevitable. With our services, however, pile-ups become a thing of the past. Bin rentals allow you to properly, and easily, dispose of your waste without having to stack it outdoors.
This way, even while the project is going on, your property looks aesthetically pleasing and clutter-free. With this type of organization, you can bet this will enhance overall project efficiency.
Convenience
While there are many benefits to opting for bin rental, convenience is definitely at the top of that list. As mentioned above, renovation or construction projects tend to accumulate on waste. The biggest advantage of renting a bin is being able to dispose of the waste without actually having to go anywhere. We not only drop the bin off on your property, but we also pick it back up and do the appropriate disposing so you don't have to.
Affordability
Another excellent benefit of bin rentals is that there are numerous sizes and bin types to choose from, all of which having varying price points. First, depending on the type of project you are working on, you can choose 6 to 8 yard bins, 10 yard bins, 14 yard bins, 20 yard bins or 30 yard bins. So if you have a small property, then a small 6 to 8 yard bin is perfect for you.
Now, the 6 to 8 yard bin only accommodates clean fill and mix loads (i.e. soil, asphalt, concrete, etc.), while the other sizes accommodate mixed waste (i.e. asphalt with drywall, soil with lumber, pipes, carpet, plastic, insulation, porcelain, etc.).
For those reasons, and many more, bin rentals are the ideal solution for small Toronto properties, all well as those across the GTA. The best part about our service is that we aim to please. With your satisfaction being our priority, our trained professionals have the knowledge to answer any and all of your questions. We can even help you figure out which bin is the best given your location and the type of project you're currently working on.
The process is so easy that all you need to do is take a picture of the waste and send it to you – we'll be able to match you with the right disposal bin. Furthermore, with our full transparency, reliability and fair prices, you can rest assured that you're in good hands. Give our team a call today at (647) 479-2152 or book online.