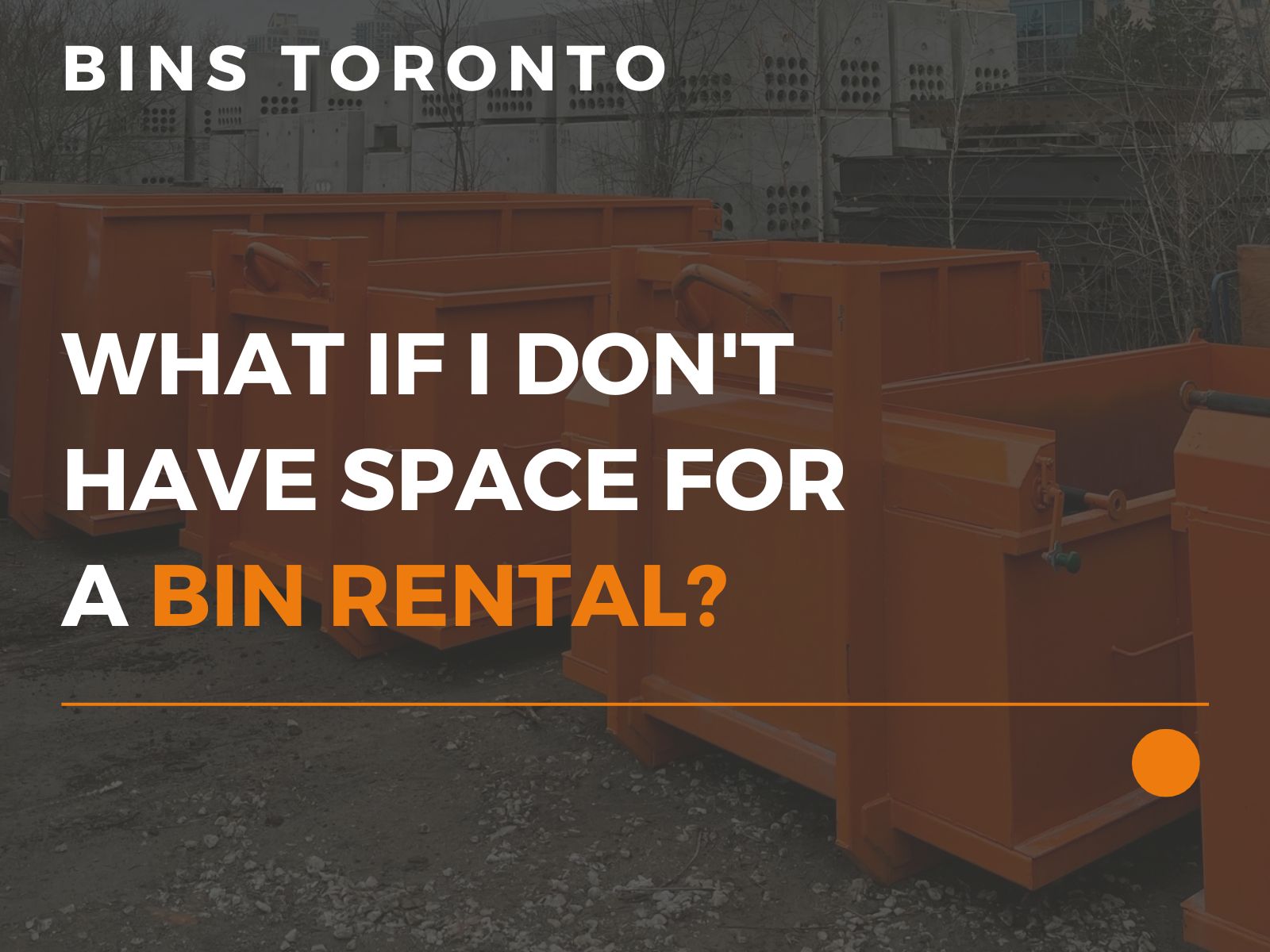 Waste from a home renovation can be a hassle to deal with. This is especially true if you live in a neighbourhood in Toronto. Why is this an issue? Well, when you are dealing with a lot of waste, you'll need to rent a dumpster bin.
But herein lies the problem: how do you get a large dumpster bin onto a small property? When it comes to delivering a bin to a Toronto home, you usually have to deal with narrow streets, strict parking rules, small properties, and, of course, neighbours who do not want to be inconvenienced by your renovation project.
If you are living in Toronto on a small property, chances are you don't have much space to keep a rental bin on your property. So what do you do if you need to rent a bin to dispose of waste, but you don't have the room? The solution to your problem is to call Bins Toronto.
Our team has plenty of experience working with Toronto homeowners, and we always provide them with solutions that take the stress out of disposing of renovation waste. Here's how we help Toronto homeowners with their renovation waste:
Live Load Service
The Live Load Service offered by Bins Toronto is ideal if keeping a bin on your property is a challenge. With this service, we don't leave our rental bin on a property and then come pick it up the next day.
Instead, one of our bin delivery trucks will come to your home and wait there while you fill the garbage bin with whatever it is you need to dispose of. However, the live load service isn't the right choice for people with A LOT of waste. That's because the driver can only wait with the bin for up to one hour.
If you have a lot of waste, you'll have a difficult time loading it all in a bin in just one hour. That is why this service isn't practical for every homeowner. So what are these homeowners supposed to do?
These homeowners need a bin rental company that can easily circumvent any of the obstacles that come with delivering a large dumpster bin to a residential property in downtown Toronto.
This is a perfect segue into our next section which talks about…
Our Experience Working With Toronto Homes
As we previously mentioned, the majority of bin rental services are not able to accommodate small and tight fitting properties on narrow streets. These services tend to just avoid downtown and other parts of Toronto.
But don't disparage because hope is not lost. Here at Bins Toronto, we have experience with helping customers living in properties that would make renting a large bin difficult or an issue for the bin rental company. We have worked a lot with tight spaces and narrow streets. We have also worked with equipment specifically for dealing with small properties.
Additionally, we are able to place bins on the street if needed, however a permit may be required from the city to do so. But no matter where we place the bin, we always take care not to damage your property or the area around your property.
Conclusion
If you live on a small or tight property in Toronto and are in need of a rental bin, then contact us today! We are here to help you with all your bin disposal needs. Our team of professionals have the skills and expertise to deal with any property or street type. We look forward to working with you.