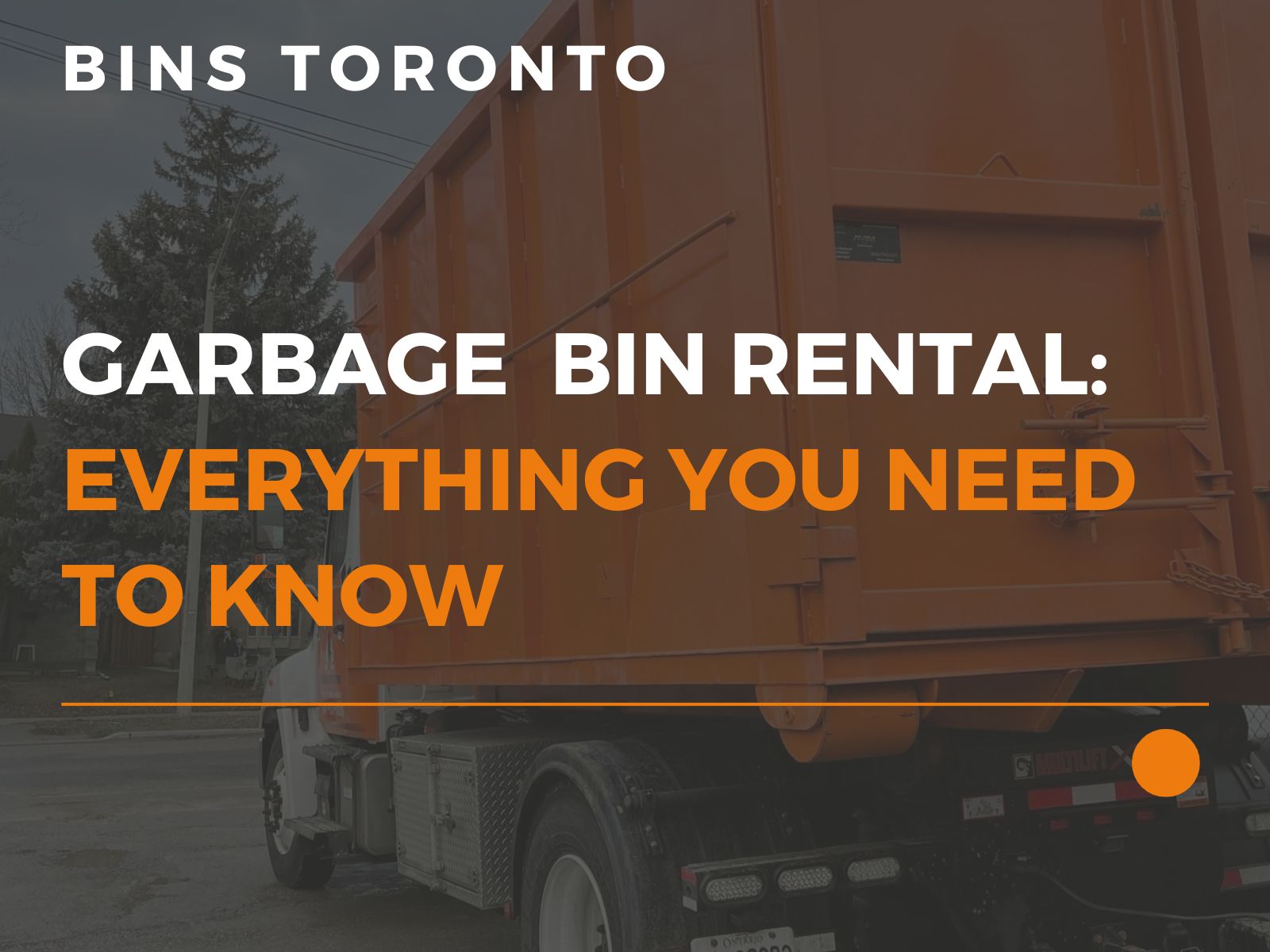 Are you looking for information about garbage bin rentals? How do our garbage rentals work? Well then you're in the right place. We have all the information you need to know.
Dumpster Bin Rental Services:
Here at Bins Toronto we offer different services for the convenience of our customers.
Regular Bin Rental
We have 4 different dumpster bin rental sizes for our customers to help with their junk removal needs. Our bin rental service is perfect for both residential and commercial projects, as well as large construction projects.
Aggregate Materials Delivery
We provide aggregate material delivery services with our bin rental services if needed. This means that we bring you gravel, crushed limestone, High Performance Bedding (HPB) stone, limestone screening, mulch, or triple mix. The cost to add this service on for delivery of any of these materials with a bin is $100.
Live Load Service
We provide a live load service for our customers who can't have a rental bin dropped off on their property and have it there for a long period of time. This service allows customers to load garbage, soil or concrete while our bin delivery truck is still there.The driver will wait with the bin for up to one hour while you fill up the bin with waste.
Dumpster Bin Rental Sizes and Pricing
Our bins come in 4 different sizes listed below. We can deliver our bins anywhere in Toronto, Vaughan, MIssissauga, Markham, Scarborough, Aurora, and Richmond Hill, and the GTA.
8 Yard Bin: this bin is for either soil, concrete, asphalt, or stone. Bins with mix loads will have to pay an additional $50 fee (example: bin for asphalt also has soil in it).
14 Yard Bin
20 Yard Bin
30 Yard Bin
14, 20, and 30 Yard Bins: these bins are only for garbage (drywall, lumber, plumbing, etc.). Customers can add soil, concrete, asphalt, or stone if they want the entire load to be disposed of as garbage. A disposal fee of $110 per ton will be added to the overall cost when over the included amount of tonnes.
If you are unsure of what size bin is suitable for your project, you can contact us here for assistance.
How It Works:
This is how the entire service works:
• Step 1: You choose your bin size
• Step 2: We deliver the bin and charge you upon delivery
• Step 3: You fill the bin with your waste
• Step 4: We pick up the bin and dispose of the waste
We do not allow hazardous waste to be disposed of in our bins. This includes stuff like cylinders, paint, batteries, aerosol cans, tires, etc. To ensure that your driveway is not damaged, we use driveway-safe bins and put down wood planks for the bins to sit on. If putting the bin on your driveway is an issue, we can leave it on the street, but a permit may be required.
We are here for all your waste bin needs. If you would like to rent a bin or rent construction equipment, call us today at (647) 479-2152 or check our website.