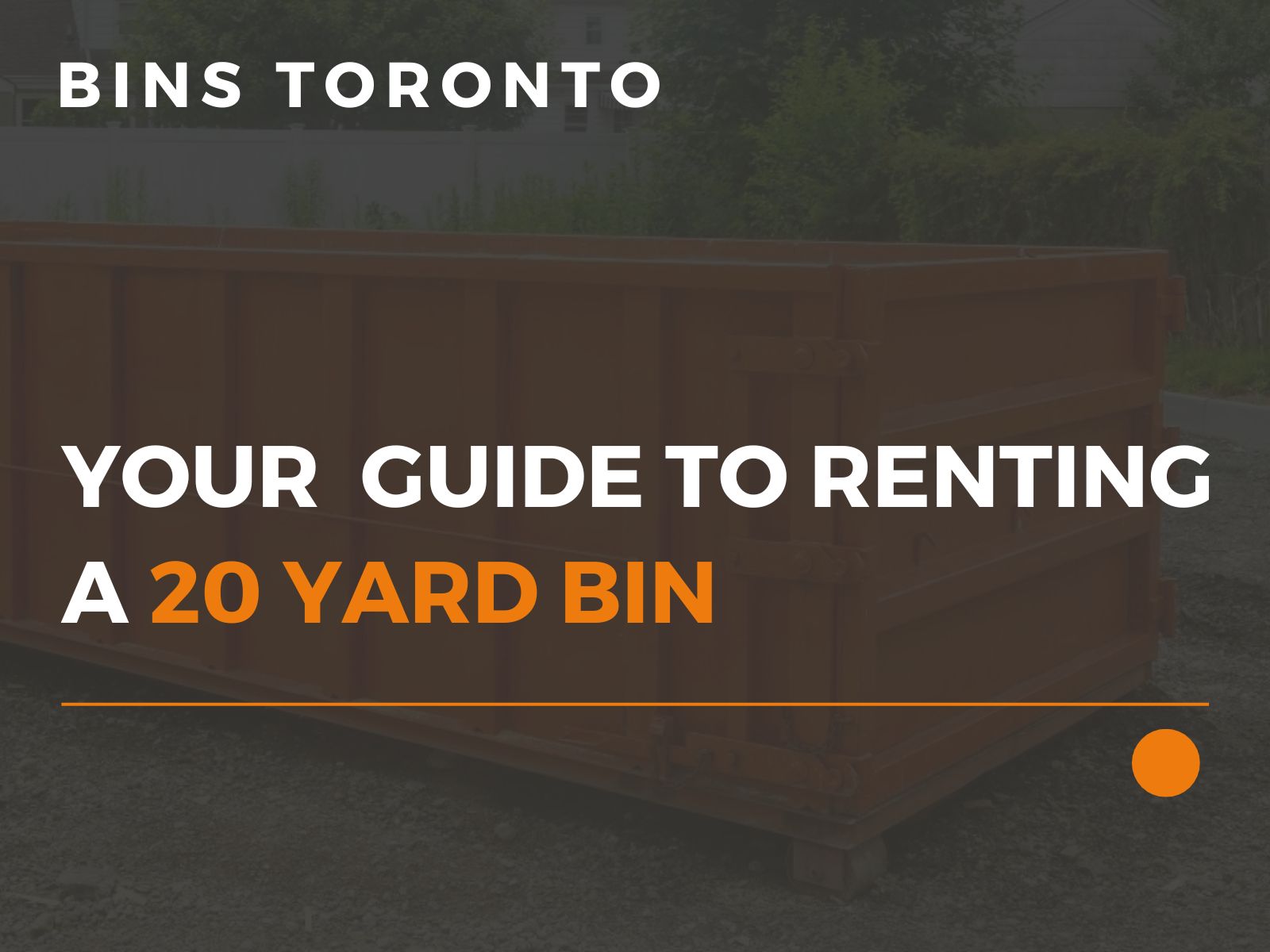 The twenty yard bin is the best disposal solution for all interior and exterior medium to large-scale commercial, residential, and construction projects. Whether you are in the midst of seasonal cleaning, home renovations, or construction site clean-up, keep reading for your complete guide on getting the most out of your twenty yard bin. 
The Twenty-Yard Bin
At Bins Toronto, our 20 yard bins run 8' wide, 14' long, and 5.5' high. We are able to deliver and pick up these bins anywhere around Toronto and the Greater Toronto Area. To check out our current price listing, you can refer to our price page. The listed pricing includes 2.5 tons of waste. For additional weight, you may be subject to additional charges, which can also be found on our website. It is important to note that these bins have a maximum capacity of 8 tons, which is not to be exceeded. 
Bins Toronto also offers aggregate materials delivery service, which includes the delivery of materials (ie; gravel, triple mix) at an extra fee, as well as live load service, which enables you to load your waste into the bin, while the truck is still there. For more information about our 20 yard bin service, feel free to refer to our website.
If you want to find out if the 20 yard bin is the right size for your project, you can keep reading to learn its common uses, or give us a call at (647) 479-2152, to speak to one of our experts. 
Uses 
How do I know if the 20 yard bin is the right size for my project? As previously mentioned, this bin size is typically used for medium to large-scale projects. Some of these projects could include:
Asphalt/Concrete

Bathroom/Kitchen Renovations

Deck Removal

Drywall

Roofing

Yard Waste
Process
If you are ready to rent out a 20 yard bin, this is how the process will work. Start out by giving us a call to let us know that you would like to rent out a 20 yard bin. Please inform us if you would like to add on any of our additional bin services. Next, we will deliver the bin to the correct location, where you will be charged upon delivery. Please note, we use driveway-safe bins, placed on wooden planks, to protect your driveway. You then have possession of the bin for up to ten days. Once you have disposed of all your waste, we will come by to pick up the bin and properly dispose of the waste for you. This bin is limited to waste only and should NOT include any hazardous waste. 
Summary
If you are ready to get started on ordering your twenty yard bin, contact our team so we can get the process started.