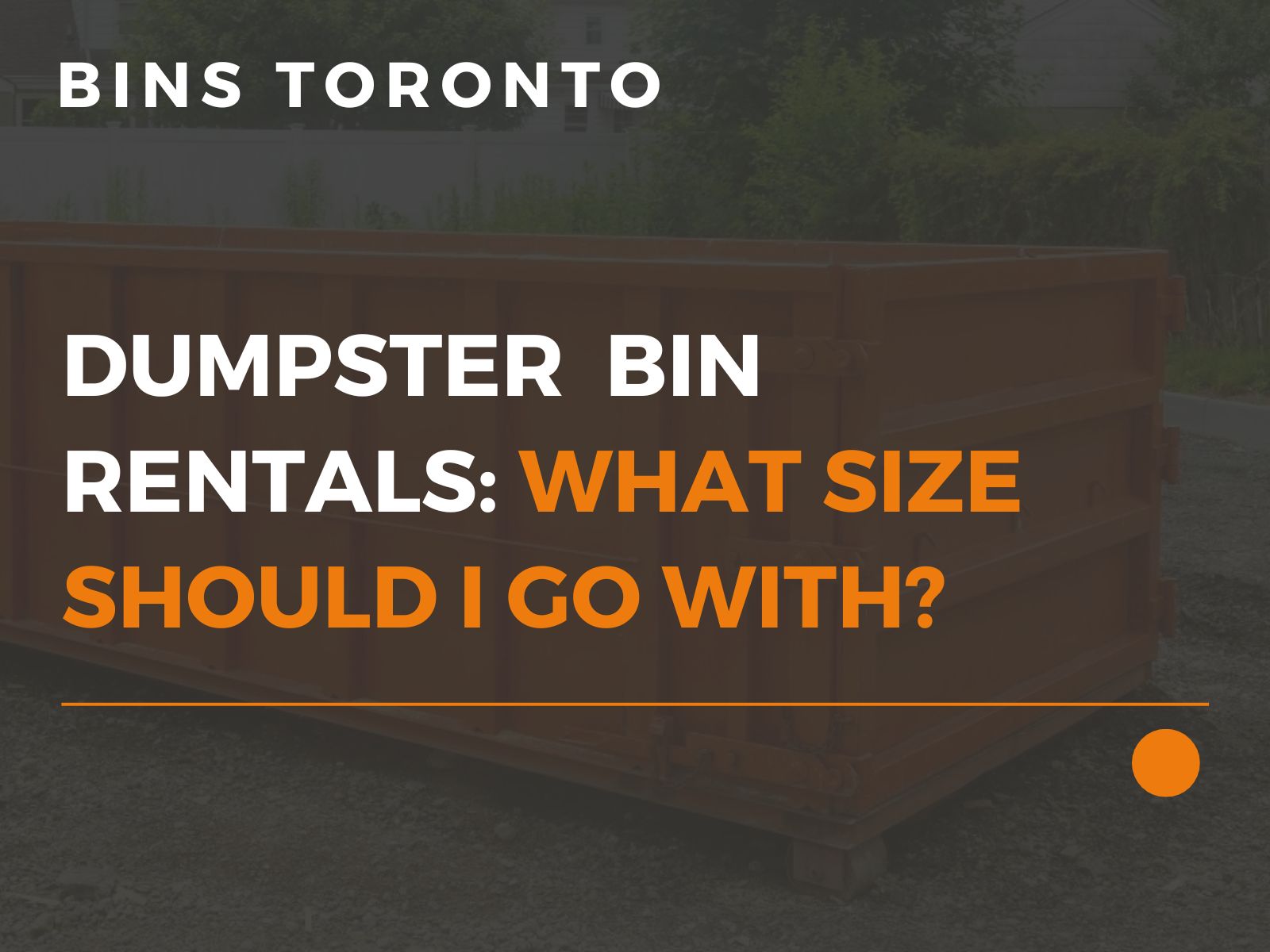 Whether you are a construction company working on a big project in Toronto or you are a homeowner cleaning up your backyard as part of a small to medium-sized renovation, then you will no doubt need a dumpster bin rental service.
You may have decided that you need to rent a dumpster, but what size should you go with? Most companies carry multiple bins, all of which are different sizes. Looking at the bin rentals available from us, you'll see that we have 5 different sizes, including 6 – 8 yards, 10 yards, 14 yards, 20 yards, and 30 yards.
Browsing our various sizes, you may find it difficult to pin down what size bin would be just right for your project. And that is precisely why we put together this article. Now, it is important to remember that if you are still struggling with what bin size you should choose, then you can always take a photo of your waste and send it to us so we can tell you what size will work best for your situation.
Size of the Job
The first thing you want to think about when considering a dumpster bin size to rent is the size of your renovation job. Now, our bins can be used for just about any renovation project, be it big commercial projects or small residential projects.
So the question becomes: what is the nature of my renovation project and how much waste do I think it will generate?
If you are doing a bigger home reno project where you will expect a lot of drywall, plumbing and wood waste, then you'll want to aim for a 14 to 20 yard bin. On the other hand, if you are renovating a single room in your home, then you may only need a 10-yard bin.
If you are doing a smaller backyard renovation project, where the waste will mainly be made up of soil and grass, then you'll want to go with a 6 to 8 yard bin. Then again, if your backyard renovation project generates grass, soil, concrete, wood, stone, and asphalt waste, then you'll want to go higher with a 10 yard bin.
If you are part of a construction company and you are working on a major project, then you'll definitely want to go big with a 20 or 30 yard bin.
What is Going in the Bin?
We briefly discussed this in the previous section, but it bears highlighting.
When you are starting a reno project, and you know you will need a dumpster bin rental service, then you should think about what waste your reno project will generate.
Knowing this can help you choose what bin you will rent. For example, if you know you will only have to dispose of soil at the end of your project, then you'll want to go with our 6 – 8 yard bin. We offer this option for people who know they will only deal with one type of waste.
When you have different types of waste to dispose of, then in most cases, you'll want to rent a larger dumpster. One thing to note is that dumpsters with mixed loads will be disposed of as garbage at the dump site. If you can fill your dumpster with one type of waste, then it is easier for the people at the dump site to sort your waste in an environmentally responsible way.
We hope this article helped answer some questions you have and gave you tips on what you should consider when looking at bin rentals for your reno project. It is important to remember that if you are still uncertain about the perfect bin for your project, then you can inquire about the right bin for you through our bin rentals page. You can also give us a call at (647) 479-2152 to ask any questions about our dumpster bin rental service.