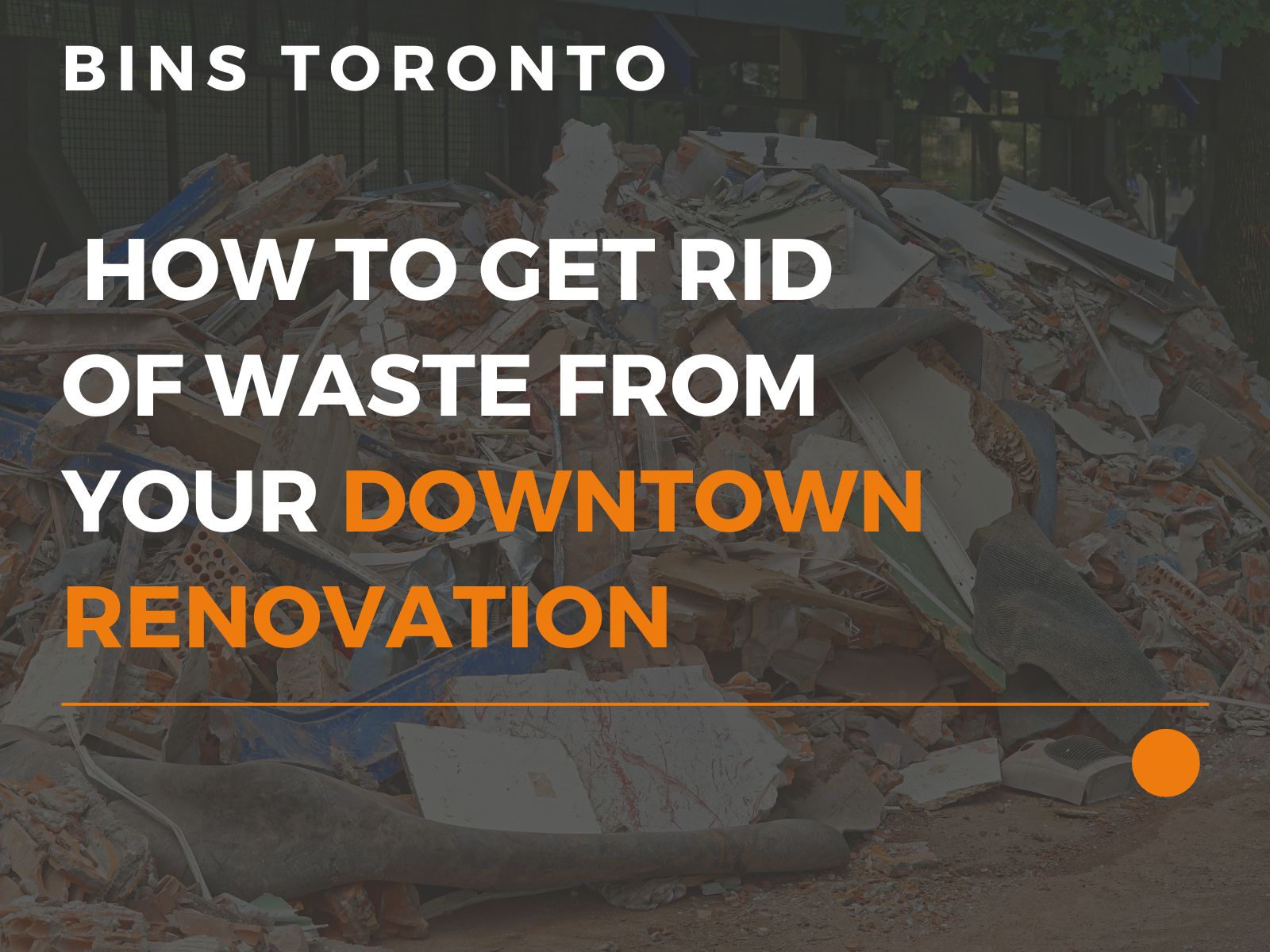 It is very exciting to get renovations done on your home. But it can be very stressful trying to figure out how to dispose of your construction waste properly, especially if you live in downtown Toronto. With a garbage bin rental service, you don't have to worry about it!
If you are about to start a home renovation project and aren't sure how you are going to properly deal with that waste the reno will produce, then let us tell you more about how we can help.
Difficulties Toronto Homeowners Face With Renos
It can be extremely difficult to deal with reno waste in Toronto. Living on small properties and narrow streets, as well as living on main roads and busy streets can make the process of getting rid of reno waste a massive headache.
Bins Toronto has experience dealing with these circumstances, and we can deliver and pick up waste bins with no issue. We also offer a live load service to help downtown homeowners, which we will speak about more in a moment.
Another issue many homeowners run into is knowing what size bin they need to dispose of their construction waste. If you are unsure of the bin size you need, you can send in a picture of your waste, and someone will let you know exactly what size bin would be appropriate.
Bin Rentals
When using a bin rental service, you can keep the bin on your property for up to 10 days while loading your renovation waste into it. When you are done, the bin rental team will come collect the bin from your property and dispose of the waste for you. Using a junk removal service helps keep you from worrying about how you're going to bring all the waste from your home to a drop-off site.
To aid you with the stress of construction waste removal, we offer different services to help you with disposal. When it comes to bin rentals for construction debris, there are four different sized bins available:
• 8 yard bin(1 ton included)
• 14 yard bin (2 tons included)
• 20 yard bin (2.5 tons included)
• 30 yard bin (3.5 tons included)
You can put any renovation construction debris in our dumpster rental bins, including:
• Drywall
• Lumber
• Plumbing
• Metal
• Roof shingles
• Windows
• Tiles
• Fixtures
• Cabinets
• Doors
• Sinks
• Concrete
• Countertops
• Plaster
• Flooring
• Asphalt
• Carpets
• And much more
Depending on the amount of waste you have will determine the size bin you will need. If you don't know what size you need, send us a picture, we'll help you determine the size you need.
As we said before, you can keep a rental bin on your property for up to 10 days; and if you need to add an extra ton of waste into your bin, you can easily do so for an additional fee of $110. So don't worry if you have more waste that needs to be disposed of!
The Bins Toronto Live Load Service
Another service Bins Toronto provides is the Live Load Service. This service is ideal for people who can't keep a bin on their property for a long period of time. This is especially helpful for some downtown Toronto properties with tight spots that aren't very accessible.
This live load service allows customers to load their reno waste into the bin while our bin delivery truck is still there. The delivery truck driver can wait with the bin for up to one hour while you fill the bin with your waste. Once you are done, the truck will leave with your waste and dispose of it properly for you.
Conclusion
Toronto home renovations can be really difficult – we are all about making this process easy and stress-free for homeowners. If you are currently planning a renovation project in Toronto and need a bin rental service or junk removal, don't hesitate to contact us here at Bins Toronto. We look forward to helping you with your waste removal needs.